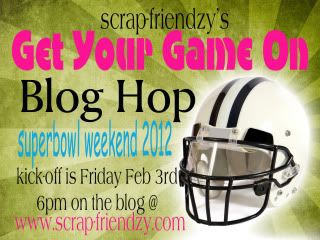 Welcome to this stop on Scrap-Friendzy's "Get Your Game On" blog hop!! The hop runs from now until midnight (CST) February 5th.
But this is not your average Blog Hop! We're gonna throw in a little extra fun with a Touchdown Challenge! At every stop on the hop, you will be given a special "ingredient" from each DT Member. Your Challenge is to take any 6 of the "ingredients" and complete any ONE project of your choice!! If you are feeling confident and think you can make that extra point, use 7 of the ingredients and you will get 2 draws. Simply upload your project in the
Gallery
and link it back to the
"Get Your Game on" blog hop thread
in the forum to be eligible for the Grand Prize AND earn 25 bonus Friendz Pointz in the month of February!
Don't forget: This BLOG HOP is just the beginning and there will be challenges all through the month of February for your chance to be our next Girlfriend of the Month!!
So back to the BLOG HOP! Before you head to the next stop, please comment on this and
Scrap-friendzy's post
letting us know you are planning to be playing and we'd LOVE for you to "follow" the
scrap-friendzy blog
, as well as, "like" the
Scrap-Friendzy fan page
on Facebook!
Here is my project!
I was inspired by
Super Bowl commercials!
I don't watch Football or the Super Bowl, but I enjoy all the commercials they release every year! I loved "The Force" VW commercial from 2011 so I decided to create a digital layout for it! (i got to use some of my Photoshop skills ;)
My ingredient for this hop is to incorporate a digital element on your page.
Maybe you have a digital cutting software to go with your electronic die cut machine. I consider that digital! OR
Type up your journaling, OR print out a flower/embellishment/paper patterned and add to your page! Be creative with this! There are a lot of options! Your layout does not have to be 100% digital like mine.
Have fun!!!
Ok.... it's time to hop on over to
Sandy's
BLOG!
and if you're lost or need see the other blogs in this hop, here is a list of participants!!
Scrap-Friendzy Blog
http://www.scrap-friendzy.blogspot.com/
AMY
http://www.amygaskins.blogspot.com
Tracey S
http://gracescraps.blogspot.com/
Amanda
http://asjmade.blogspot.com/
Tracy R
http://ascrapatatime.blogspot.com
Cheryl
http://www.cherylllane.blogspot.com/
Tammy
http://corinthians517.blogspot.com/
Chris
http://mommomandpoppop.blogspot.com/
Susie
http://somanyscraps.blogspot.com
Kathy
http://kemorgandesigns.blogspot.com/
Shannon (you are here)
http://scraplady324.blogspot.com/
Sandy
http://creativeblessings.blogspot.com/